A Complete, Secure Data Protection Solution!
OrionSecureData Secure Data Backup ensures that not only is your critical data encrypted and only you have access to it. Our compression algorithms allow for a secure cloud-based archive.A different, secure and scalable Business Continuity solution.

Our customers see OrionSecureData as a much different service, a true archive solution as compared with other online "backup" service providers. Encrypted client backups in order to secure your business-critical customer data and added security between Orion server and client installations with Orion's secure communication. Industry-standard Blowfish and Triple-DES Encryption algorithms protect customer data.
Orion comes with robust security management features which include the facility to encrypt and send backups to the Orion backup server. These secure encryption techniques have never been compromised. In addition, Orion client and server installations communicate using a TCP/IP-based secure connection which pretty much eliminates the possibility of your valuable data being stolen.
A truly integrated Secure On-Premise and Off-Site Cloud-based Business Solution
Protect your most valuable asset … Your DATA – with our state-of-the-art, secure web-based backup service. Enjoy the convenience of Easy System Restore, File Versioning, Secure Account Sharing and more. What would you do if you suddenly lost your data? How much would it cost to recover? Would your business survive?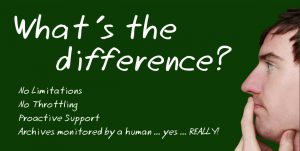 We now provide the most cost-effective, reliable, secure and convenient way to automatically back up your mission-critical data offsite every night. Enjoy peace of mind knowing if the unexpected happens (systems crash, virus, data corruption, fire, flood, theft, sabotage, human error, etc.), your data is secure offsite at our two mirrored data centers and easily accessible to you with just a few clicks, 24×7.
Our award-winning backup software includes valuable data access and recovery features that separate us from other online backup companies. These powerful, easy-to-use data management tools help you work more efficiently and effectively, providing you a significant return on investment (ROI).
What makes Orion a robust data backup platform?
No Limitations
There is no bandwidth or data storage limitations
Versioning
We can retain up to 5 of the last versions of any piece of data.
Deleted File Recovery
We retain the last copy of any deleted file for the life of your account.
Expedited Restore Options
Multiple options for recovery so you can continue business operations.
Proactive Support & Monitoring
A human .. yes really ... actually proactively monitors your backups.
Real-time Bandwidth Monitoring
Dynamic bandwidth monitoring to prevent unwanted impact on operations performance.